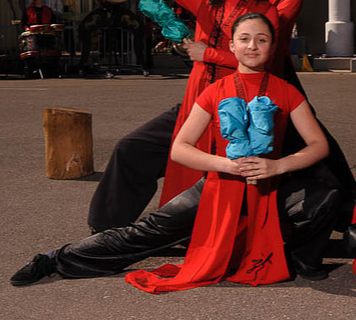 I always identified myself with different cultures. Among one of these little obsessions is the Chinese culture. I think it started when I first saw the Disney movie Mulan. She was truly one of my biggest heroes showing strength, vulnerability, bravery, pride and honor. When I was eight years old my mom took me around town to try and find self-defense lessons that would be the best fit for me. When we arrived at our last destination of the day, we pulled into a little hidden temple with a big gold dragon and two white marble Chinese lions out front. When we walked in, a little shop was there that sells Chinese merchandise, and just beyond the arched entrance was the dojo with dragons and lions, swords and staffs, punching bags and equipment used to practice. Then on the center of the floor was the great big yin yang. The owners Synthia and ShiFu Charles Lin are originally from Taiwan. They welcomed us and let us observe the class. Well, it goes without saying that I fell in love. What they teach here wasn't just self-defense; it was a "way of life" (as one of the instructors put it). They were so cultured. It was obvious that this wasn't just a business for the family; it was their endeavor to keep the heritage alive. This was where I would find my Mulan.
As I climb the steps of the temple the white marble lions lead the way, and the ferocious gold dragon welcomes me with pride. This is the art of Shaolin Kung Fu and Tai-Chi Chuan. In this place master Lin has brought his lessons from Taiwan to his students: patience, strength, flexibility, self-defense, discipline, heritage, and "wealth in health." I step inside and see almond eyes in the same room with coffee skin and corn hair, all a team, all a family, all in harmony like the black and white yin yang sign right beneath our feet.
As I learn this way of life, I feel strong and powerful. I feel as though I am home.