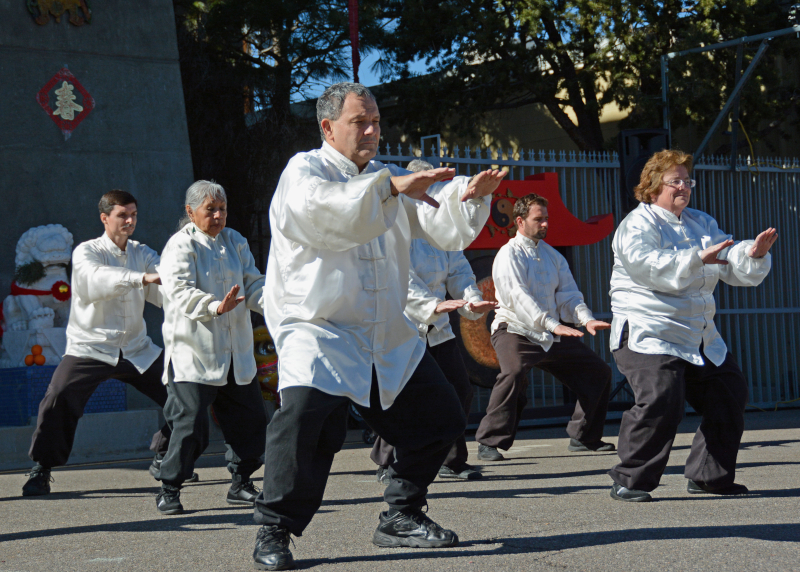 Chi Kung is an exercise program that everyone can enjoy. Based on the eastern theory of Yin and Yang, Chi Kung teaches the mind to enhance the body's natural energy.
Chi Kung (or QiGong) consists of Ancient Chinese routines, both stationary and moving, that nurture the organs, maintain health, calm the mind and foster greater martial power.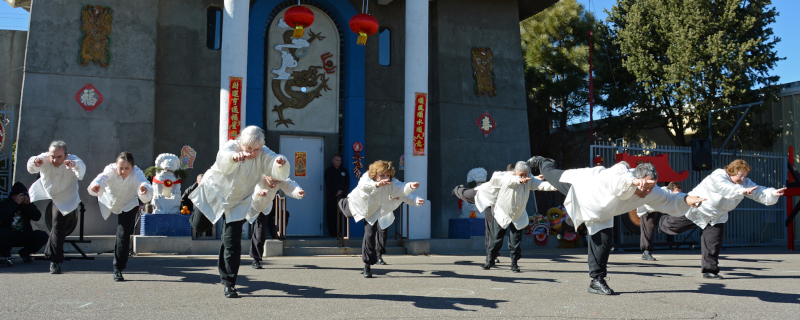 Once regarded as magic; Kung (or Gong) means "work" and Chi (or Qi) means the "energy" that circulates in the body. Chi Kung is practiced for good health and prolonged life, but it is in essence the root of all martial power. Handed down over the centuries, Chi Kung is practiced by millions of people of all ages, all over the world, everyday.
Chi Kung classes are offered as special seminars over the course of three Saturdays, 9:15 AM to 11:00 AM, with each being a complete and comprehensive study of one specific subject. Seminars may be attended in any order, and no prior training is necessary. Uniforms are not required, just wear comfortable clothing.
Taoist (Water) Chi Kung
Taoist Chi Kung Water method uses a yin method of strengthening and balancing the body's life force – Chi. This qigong method uses various practices to enhance the body's chi as well as feel chi through the body as the practices are performed. This class will consist of a series of exercises/practices to assist students feeling and moving chi through the body. The Chi principals discussed and practiced in this class can be implemented in multiple martial arts practice including tai chi forms (primarily Yang and Wu styles); Ba Gua, and other types of Chi Kung/neigong practices. These practices will also enhance other external martial arts styles.
The Taoist Chi Kung Water method is also known for strengthening and balancing Chi to age gracefully, help maintain well-functioning joints (knees, hips, shoulders, etc.), massage the organs, open the energy gates and cavities of the body, help with strengthening the spine, increase brain function and provide self-healing practices. The course will begin by focusing on the simple movements of tai chi circling hands. As time progresses we will continue to advance each subject matter to enhance your practice.
Each neigong practice works some internal component within the body to enhance chi and body functioning. Some of the neigong components we will be exploring are: opening and closing the joints of the body (also known as pulsing; lengthening the soft tissues of the body; feeling and enhancing the organs of the body; exploring the energy gates and cavities of the body; exploring the yin/yang surfaces of the body; reviewing the four energies – peng, lu, ji, an, and how they play a role in tai chi movements and neigong practices; etheric body awareness; and meditation in movement (later classes).
Marcy Pincus will be leading this class. She was trained in these practices by the founder of Energy Arts' Bruce Frantzis. She has been a student of Master Frantzis since 2002. Master Frantzis spent 15 years in Asia including 10 years in China, of which three years practicing with Grandmaster Liu Hung Chieh. He is a lineage holder in Taoist Chi Kung Water Method; Yang and Wu style tai chi; Hsingyi; Taoist meditation and Ba Gua. Grandmaster Liu was head of the original Ba Gua school in Beijing, and lived and studied with founder of the Wu style tai chi. Liu was a lineage holder in tai chi (Yang and Wu styles), hsing-yi, and Ba Gua, as well as an adept in Taoist Chi Kung and meditation practices.
Chi Kung seminars are offered on an every-other-month basis. All levels of experience are welcome! 
Where: Lin's Martial Arts Academy, Chinese Culture Center, 427 Adams SE, Albuquerque 87108
Tuition $65
July 15th, 22nd, 29th 9:15-11am