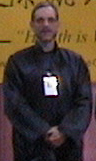 After spotting a sign on Central Avenue that read Kung Fu and Tai Chi Chuan, I circled the block and parked my car. I entered a small store-front next to the Lobo Theater and met Master Lin for the first time. I was looking for some form of regular exercise, as well as stress relief from the daily desk job. Little did I know at the time, how Tai Chi would change my life.
I never played sports in school and do not consider myself athletic, so this started as a personal challenge. I had no real knowledge of Chinese Martial Arts other than the old TV series "Kung Fu", which I watched faithfully. In fact, at the time, I'm not sure I had ever met anyone Chinese. In the old studio, there was a sign that said, "where there is a will, the iron bar may be honed into a nail," and therein lies the secret. It has to be something that you desire. Your teacher offers knowledge, the job of learning is up to the student, and here, everyone is allowed to gain and advance at his/her own pace. One of my first assignments was to read about Tai Chi, and I still have not finished. At first, I could not understand how anything could take 20 years of practice to reveal itself, but the truth is that there is so much depth to Tai Chi, that the first ten years are like floating on the surface of a bottomless lake.
Enlightenment cannot be bestowed upon you, just as Tai Chi cannot be given to you. It is something that you must earn for yourself. Tai Chi has something for everyone at any level, from the simply physical to the totally spiritual and everything in between. Your Master holds the key, but you must pass through the doorway yourself.
In all my reading, everyone agrees that when you find a good Master, you should stay with him, because the good ones are hard to find. I am so lucky that I found Master Lin. He, his family and the school have been a large part of my life over the last 20 years. You will not find a more dedicated and giving teacher than Master Lin. And you will not find a better place to study traditional Chinese Martial Arts than the Chinese Culture Center.
Tai Chi is a journey not a destination.